67 Best Hometown Quotes & Inspiring Home City Quotes
Disclosure: This article may contain affiliate links, meaning I earn a small commission if you make a purchase. Affiliate links cost you nothing to use and help to keep my content free. It's a win-win for us both! Read this disclaimer for more information.
Your hometown (or home town in British English) is typically the town or city where you were born or grew up, but it can also be where you currently live. Do you have fond hometown memories of childhood and family in those halcyon days before "adulting" became necessary? Me too!
In this article, you'll find 67 of the best hometown quotes and own city quotes to take you back to your hometown for a moment. If you've moved away from your own city, these quotes might inspire you to appreciate your new hometown more.
If you're feeling homesick or nostalgic for where you grew up, these quotes about hometowns are here to lift your spirits too. Sit back, relax and remember what you loved about your home town – or maybe these quotations will remind you why you left!
Related Post: How to be a Tourist in Your Hometown
Let's jump right in with some beautiful hometown quotes and sayings.
‍Hometown Quotes And Sayings
1. We kick off this collection of quotes about hometowns with a Bucharest-born actor who fled the oppressive regime in Romania for Germany as a child. It's not surprising that she considers her hometown to be her new country.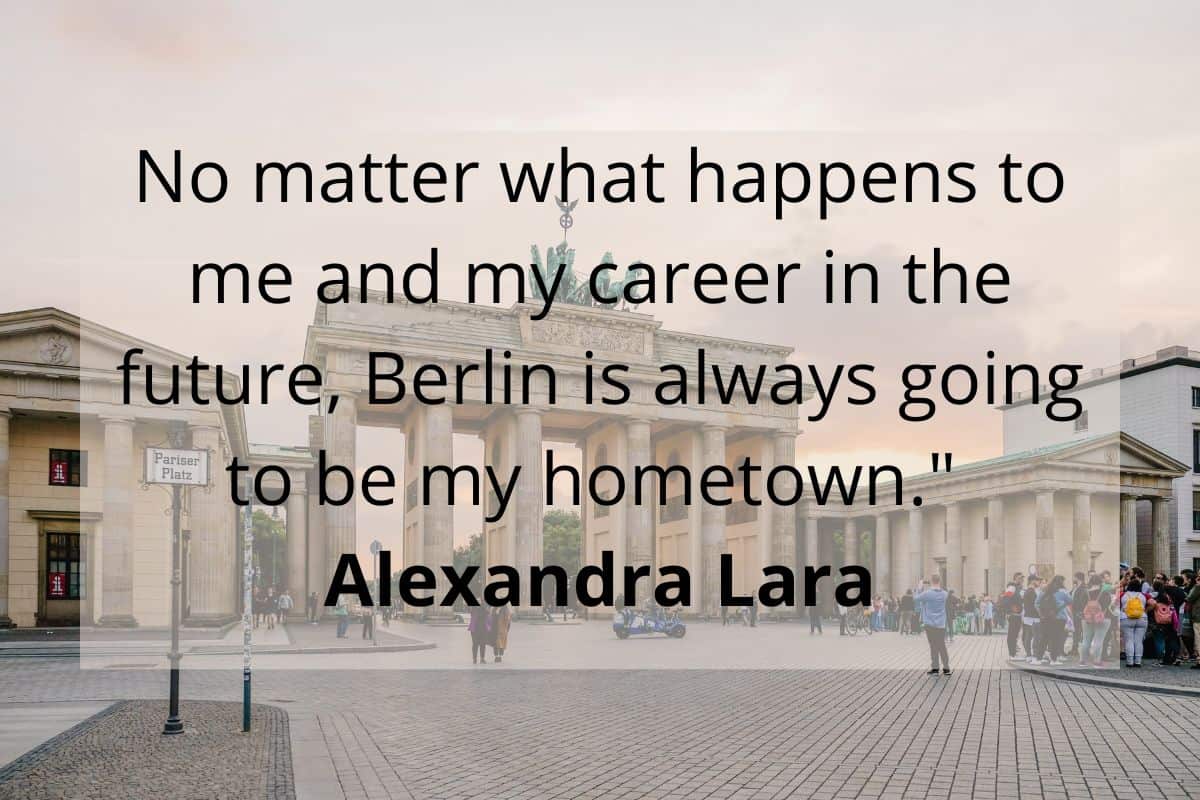 2. "There's a certain vibe in my hometown; Buffalo is a city that has no illusions." John Rzeznik.
3. "I do love my hometown. It really forged who I am in a major way." Dave Filoni.
4. "Everyone would like to play in their hometown, but right now, I like Cincinnati; I like the way it's going. I'm happy." Eric Davis.
Short & Snappy Hometown Quotes for Instagram Captions
You might love this collection if you're looking for inspirational hometown quotes for Instagram.
5. Pop newcomer Paul Young had his first hit in the 1980s, topping the UK charts for three weeks with his slow and mellow version of a 1969 Marvin Gaye song.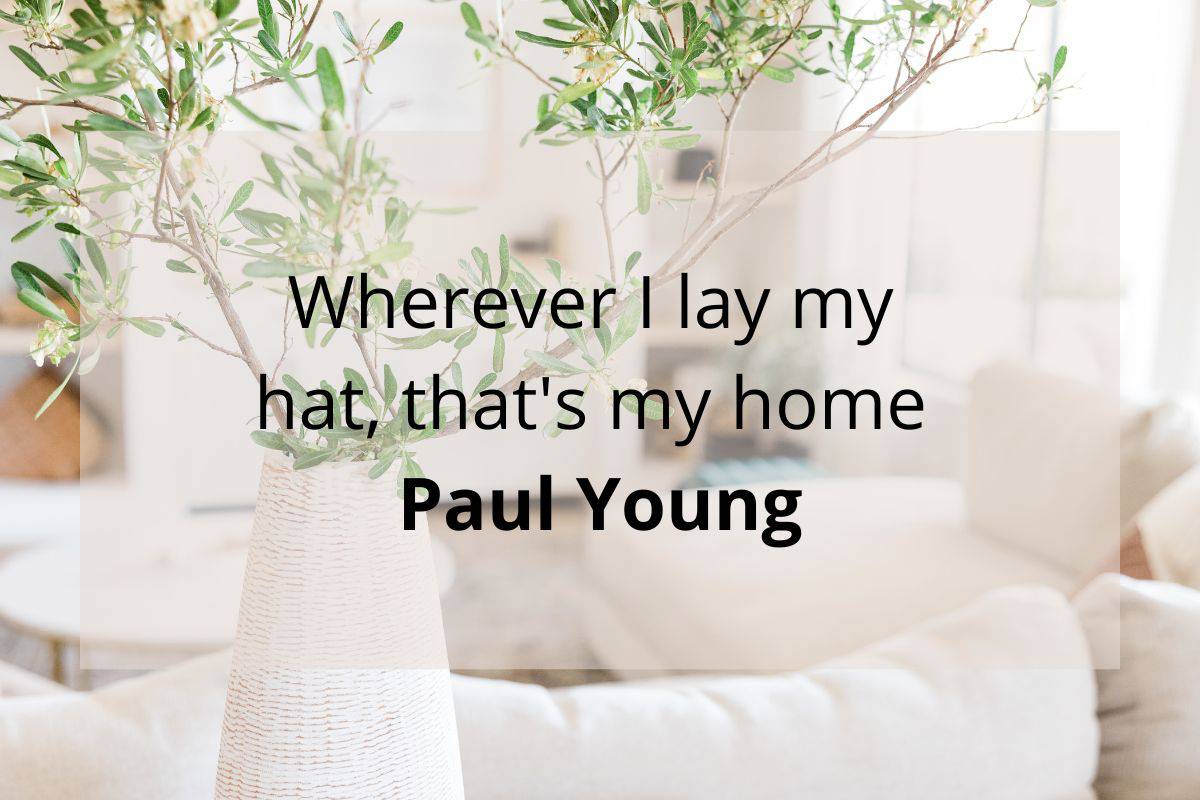 6. "Round my hometown, memories are fresh." Adele
7. "I never wore high heels in my hometown." Liu Wen
8. "I know guys in my hometown that drive by feel and sound." Evel Knievel
9. "My Hometown" Bruce Springsteen
10. "Give Me Back My Hometown." Eric Church
Best Inspiring Hometown Quotes
Here are some inspiring and funny hometown quotes, with some of the best sayings about hometowns.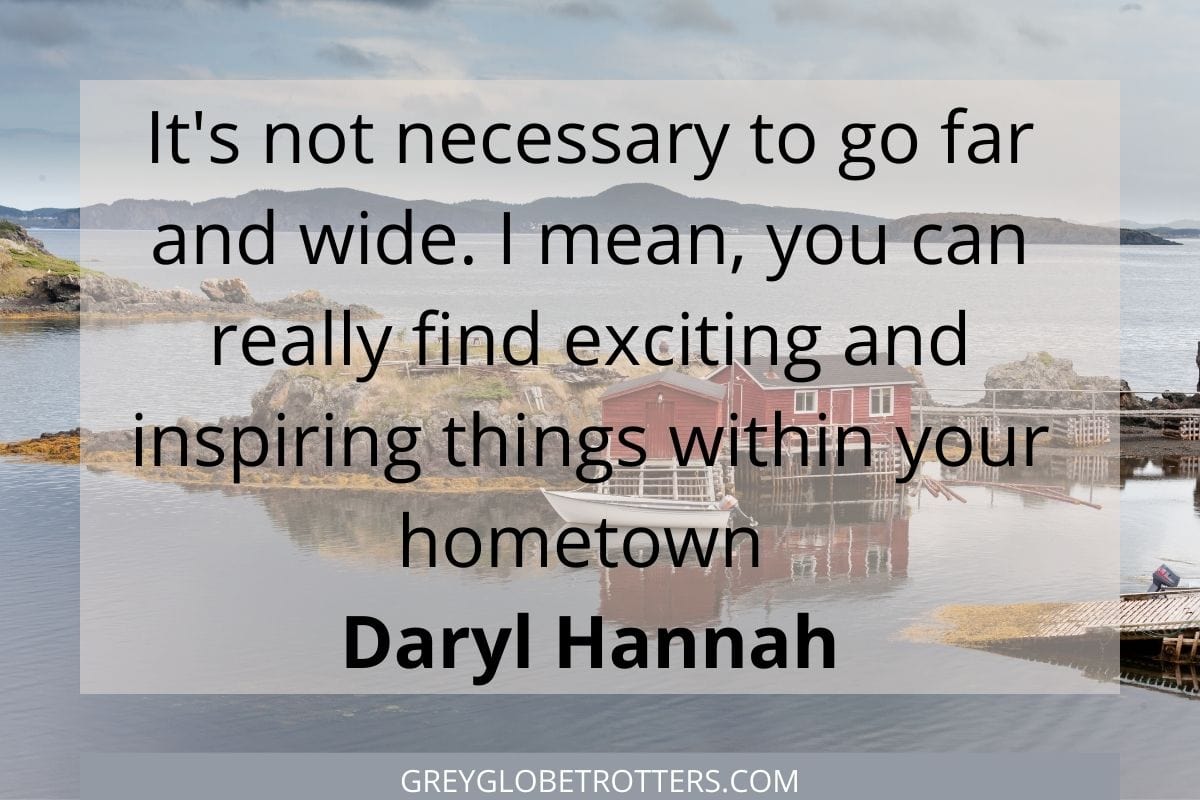 12. "I do love traveling all over the world, but it's true: there's no place like home." Dolly Parton
13. "In my hometown, the sky seemed endless . . . but there was nothing to see." Ryohgo Narita
14. "Once I had put enough distance between myself and where I grew up, I started to see its beauty. I started to see it the way outsiders do – maybe because I had become an outsider." Taylor Jenkins Reid
15. "I am realising this now more as I grow up: that I never really felt connected to locations. In some sense, I always kind of felt a little lost in that I never had any hometown pride. While I experience a lot of different places and experiences, I always felt a little detached." Lauv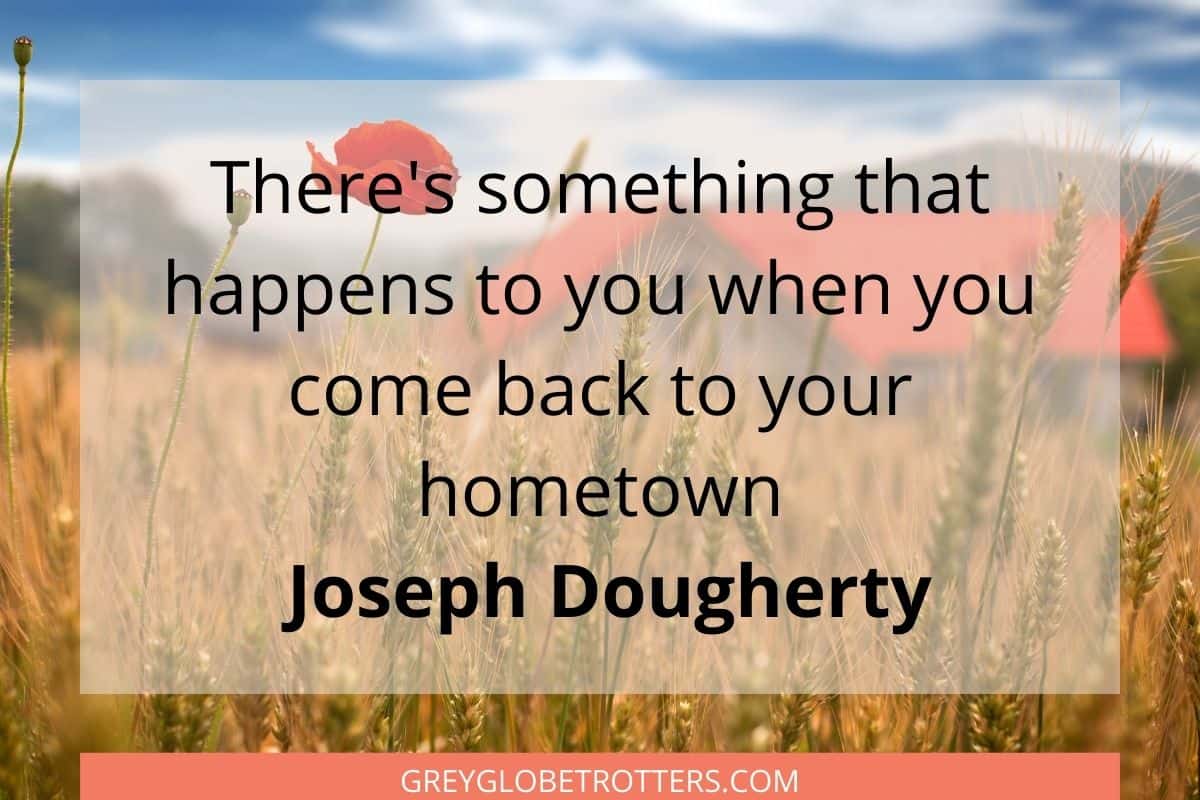 17. "When you finally go back to your old home, you find it wasn't the old home you missed but your childhood." Sam Ewing
18. "Nothing can bring a real sense of security into the home except true love." Billy Graham
19. "I long, as does every human being, to be at home wherever I find myself." Maya Angelou
20. "He is happiest, be he king or peasant, who finds peace in his home." Johann Wolfgang von Goethe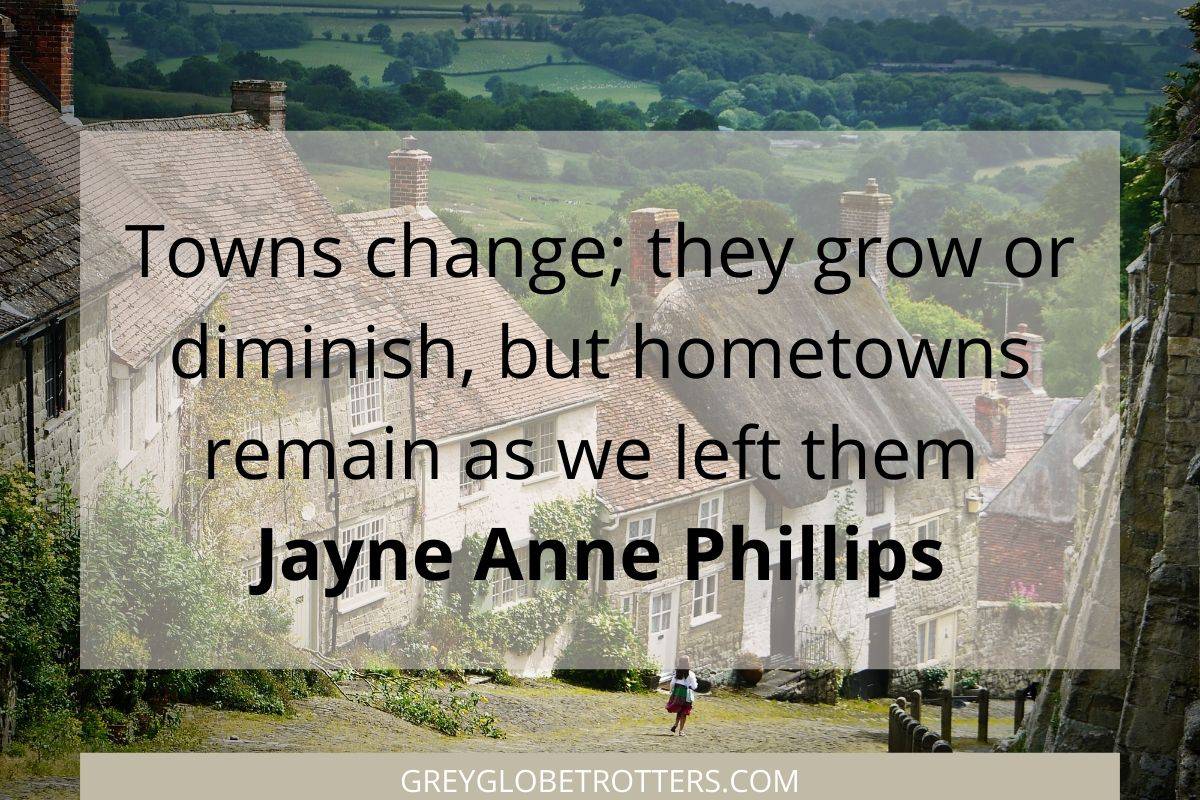 22. "Where we love is home – home that our feet may leave, but not our hearts." Oliver Wendell Holmes Sr
23. "Think you're escaping and run into yourself. The longest way round is the shortest way home." James Joyce
24. "It's my hometown, but it's also a great town. There's a lot of stories here when you peel back the layers." Joel Vetsch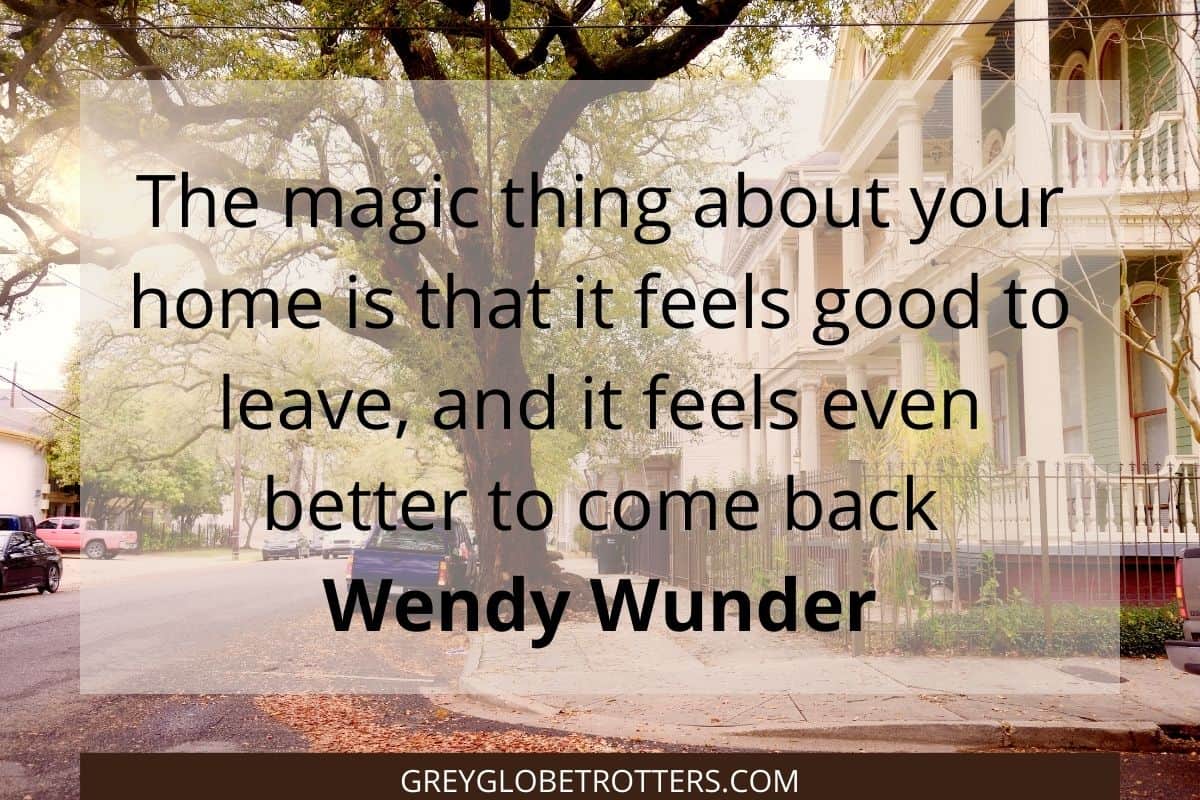 26. I, too, am compelled to carry the gospel of freedom beyond my particular hometown." Martin Luther King Jr.
27. A house is not a home unless it contains food and fire for the mind as well as the body." Benjamin Franklin
28. It's been my belief that learning how to do something in your hometown is the most important thing." Pete Seeger
29. "When you finally go back to your old home, you find it wasn't the old home you missed but your childhood." Sam Ewing
31. "You always want to do things in your hometown. The kids feel more a part of the community when they do." Brian Perkins
32. "Performing in my hometown reminds me where I came from and that I am so grateful for my childhood. It also means being with family members. Then I'm also reminded of the unbelievable places God has taken me around the world." Tommy Walker
33. "It is a bitter-sweet thing, knowing two cultures. Once you leave your birthplace, nothing is ever the same." Sarah Turnbull
34. "Every Christmas, my hometown radio station would always play Christmas In Dixie by Alabama. I always remember lovin' that song." Kenny Chesney
35. "A prophet is not without honour except in his hometown, among his relatives and in his household." Mark 6:4 (The New Testament)
36. "It may be that the satisfaction I need depends on my going away so that when I've gone and come back, I'll find it at home." Rumi
37. After a difficult childhood in North Yorkshire, British poet Edith Stilwell escaped to London where she lived for many years with her former governess. It's certain that the home she writes of here is not the loveless hometown of her youth but the new haven she found as an adult.
38. "It's bragging rights in your hometown. Who doesn't want to be the guy to go to 7-Eleven and be able to say they're the king of the town?" Arnold Alpert
39. "My inspiration is my hometown. I feel that because I'm representing my very overlooked region of Virginia, I have to keep accomplishing my goals to show everyone there that you can truly become whatever you believe with hard work and dedication." Thomas Jones
40. "In my hometown, there is a pub named after me – The Frome Flyer on Jenson Avenue. How cool is that?" Jenson Button
41. "My hometown is extremely supportive of me, and I feel blessed to be able to create something as a way of giving back, to say thank you." Carrie Underwood
42. "When I dig back through memory cells, I get one particularly distinctive feeling-and that's one of warmth, comfort and well-being. For whatever else I may have had, or lost, or will find – I've still got a hometown. This, nobody's gonna take away from me." Rod Serling
Leaving Hometown Quotes
Did you ever dream of moving away from your childhood home? Perhaps for your education or to forge ahead in your career? Did you stay, or did you go? Maybe, you had itchy feet and needed to expand your horizons? No matter your reason, leaving the comfort blanket of a familiar place can make you homesick!
44. "Painful though parting is, I bow to you as I see you off to distant clouds." Emperor Saga.
45. "Leaving my hometown and my family was very hard." Camille Moute.
46. "After you leave home, you may find yourself feeling homesick, even if you have a new home that has nicer wallpaper and a more efficient dishwasher than the home in which you grew." Lemony Snicket.
47. "You see much more of your children once they leave home." Lucille Ball.
48. "It is so hard to leave – until you leave. And then it is the easiest goddamned thing in the world." John Green, Paper Towns
49. "God is at home; it's we who have gone out for a walk." Meister Eckhart
51. "I moved to Charlotte at a young age, and despite how much I like Charlotte, I've always had a fascination with my hometown." Kenny Wallace
52. "When I was 18 years old, I came to Tokyo from my hometown, Ise, in the countryside. I'd always been really inspired by fashion and music, especially when punk came out in '76 or '77." Hiroshi Fujiwara
Small Hometown Quotes
If, like me, you've ever lived in a small town where everyone seems to know everyone else's business (!), these quotes about hometowns that are modest in size are sure to resonate with you.
53. "A small town is a place where there's no place to go where you shouldn't." Burt Bacharach.
54. "Living in a small town, I knew everybody, and everybody knew me." Anna Nicole Smith.
55. "There may be no secrets in small towns, but there are no strangers either." R.A. Mathis.
56. "Keep going until your efforts start to make things better in your hometown." Yoko Ono.
58. "Sometimes you film in your hometown; sometimes you go halfway across the world." Jodelle Ferland
59. "When I walked down the streets, I asked myself, are these my people? Is this my hometown? Am I who I am?" Azar Nafisi
Back To Hometown Quotes
Every year millions of people take advantage of national holidays to spend time with old friends and family in their hometowns.
61. "Seek home for rest, for home is best." Thomas Tusser
62. Moving out of your hometown is a life hack." Will Smith
63. "There's something that happens to you when you come back to your hometown." Joseph Dougherty
64. "In the mind, in the heart, I was always home. I always imagined, really, going back home." Miriam Makeba
65. "I didn't take a break from making music, but I took some time away from the "need to sell it" thing and moved to my hometown, Umea. I took my time there, exploring music on my own, on a very personal level." Tove Styrke
Best Own City Quotes
66. "I don't know what London's coming to – the higher the buildings, the lower the morals." Noel Coward
Last Words
And there you have it! Did you find these 67 hometown quotes inspiring? Have I missed any quotes about hometowns that you think I should add here? Do let me know whether you used any of the hometown quotes for Instagram in your captions!
Do you love reading quotes? I'm a word nerd and I'm a little obsessed with them! If you enjoy travel quotes too, you might also enjoy reading:
Like this post? Pin and save for later