Have you ever noticed those bins at the airport security check filled with confiscated liquids and sharps? Security agents confiscate things every day from passengers who don't follow the TSA liquids carry on rules. In just one year, 39 tonnes of toiletries were seized at Liverpool's John Lennon Airport in the UK!
The best way to avoid getting your things seized by security agents is to know the TSA guidelines before packing your hand luggage and getting to the airport. An extra bonus is that you'll be able to pass promptly through security without any worries about being late for your flight.
Here's a handy guide with everything you need to know about the TSA liquids carry on rules:
PS Be sure to save this guide to the TSA rules on liquids in hand luggage to Pinterest. Just click on the image below!
What is the TSA?
The Transportation Security Administration (TSA) was set up in November 2001 in the United States, in the wake of 9/11. Its purpose is to strengthen the security of the nation's transport systems while ensuring the freedom of movement for people and commerce.
Do TSA rules apply in Europe?
Most countries, including the UK and the rest of the European Union (E.U.) have also adopted the TSA liquids rules.
Does the TSA Liquids Rule Apply to Checked Baggage?
You can pack as many liquids as you want into your hold luggage. If you're travelling with checked baggage, remember to pack the liquid containers inside zipped or sealed plastic bags so any leak are prevented from soiling your other checked items.
The TSA Liquids Carry On Rules 2022
When it comes to the liquids in your hand luggage, size matters! Suppose you are planning on travelling with hand luggage only. In that case, you need to know the TSA rules on liquids in hand luggage before you get to the security checkpoint – or risk getting your things confiscated, holding up the queue, and possibly even missing your flight.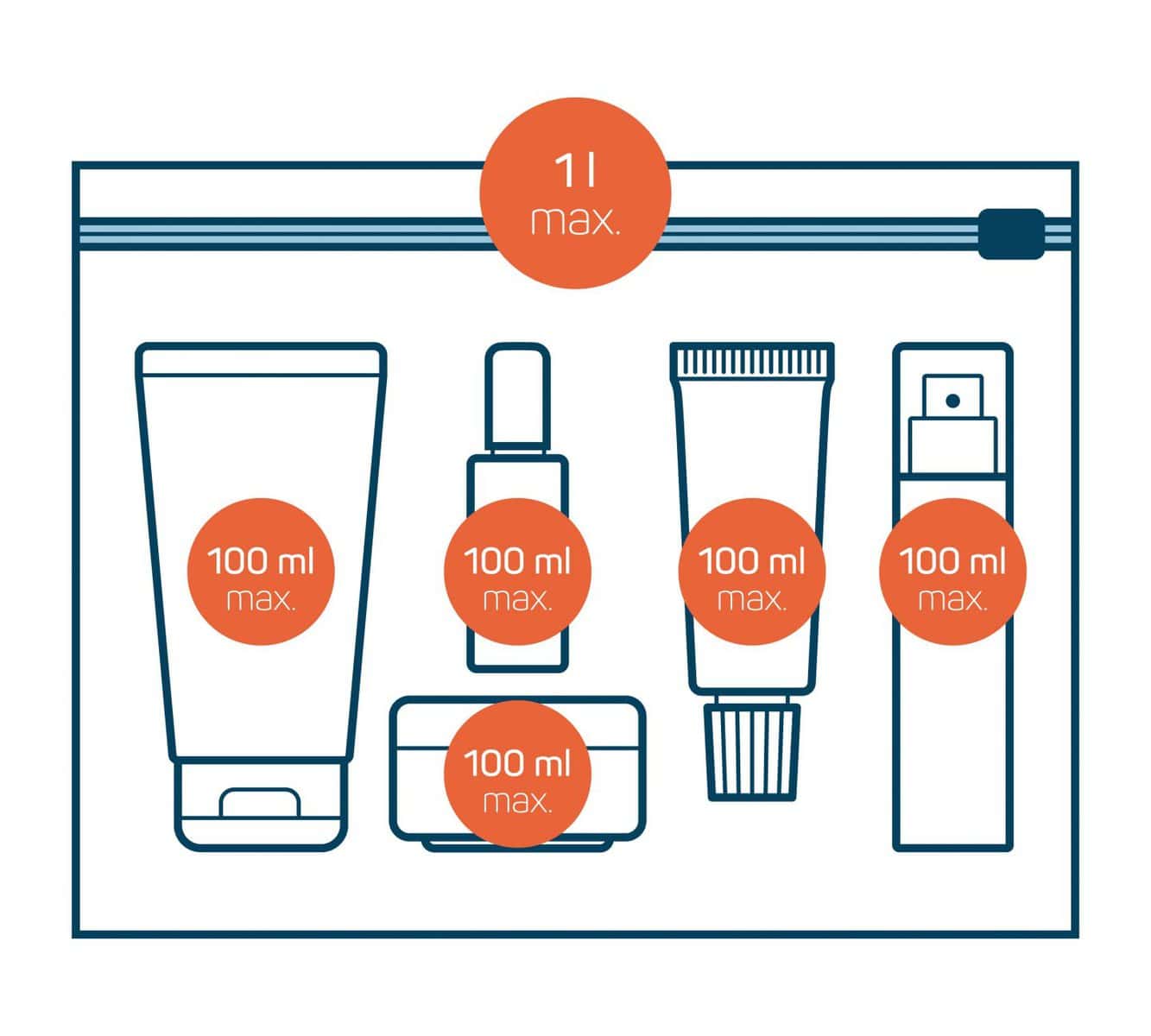 The TSA Website states the following TSA Liquids Carry On Rules:
You can take one quart-sized bag of liquids, aerosols, gels, creams and pastes in your carry-on bag through the security check. 
The limit is 3.4 ounces (100 millilitres) or less per item. 
Any item that raises the alarm will require additional screening. Pack items larger than 3.4 ounces (100 millilitres) in checked baggage.
Medication and infant/baby foods are the only exceptions to this policy
For International Flights to the UK or to the United States
You can carry liquids measuring more than 3.4 oz or 100 ml in your carry-on bag if you're on an international flight and you have an onward connecting flight. The liquids must be in transparent containers, bought from a duty-free shop, and have an unbroken seal.
Bottles containing more than 3.4 oz or 100 ml that are not in a safe, tamper-evident bag must be packed in your checked baggage.
Select Your Toiletries With Care
Now that you know the TSA Liquids Carry On Rules you can decide what to include in your toiletries bag (and what to leave at home). Get started by making a list of the toiletries you want and need for your trip. It's a great way to avoid taking unnecessary items with you.
Pack anything that you can't live without while you're away – especially if you know you won't be able to find it at your destination. Consider buying anything else during your trip (or manage without).
Optimise Your Toiletry Kit with Travel-Sizes and Refillable Containers
Once you're clear on which liquids you want and need for your trip, and you understand the restrictions of the TSA Liquids carry on policy, you can start preparing your toiletry kit.
Lots of pharmacies (drug stores) and supermarkets sell travel sized items for your toiletry kit, but this is the most expensive and least sustainable way to travel.
The most sustainable and best value option is to buy refillable bottles that meet the TSA liquid limit. You can refill them over and over for future trips, or keep your travel size branded bottles once they are empty, and fill them yourself.
My bathroom is full of travel-sized containers of shampoo, conditioner, and body wash – all empty and waiting to be refilled for my next trip!
Choose the Best Toiletry Bag for Your Needs
There are so many types of toiletry bags out there.
Traditional "washbag" style bags can be useful if you're checking a bag in and want to take a lot of cosmetics and toiletries with you. This style can be a little bulky for minimalist hand luggage only travel.
Personally, I have a small hanging toiletry bag which has pockets and pouches that are the perfect size for organising my travel-sized bottles and (minimal) make-up. I like being able to hang the bag up in even the teeniest of bathrooms and keeping countertops clutter-free..
If you tend to take similar toiletry items on every trip refilling your toiletries as part of your unpacking routine is a great way to get yourself all set for impromptu trips. You'll be able to just grab your bag and go, confident that your washbag items all meet the TSA liquids carry on rules.
Now you know how to meet the TSA liquids carry on rules; you can pack your bag with confidence, knowing you can cruise through airport security without any hassle.
Read Next:
Before You Go
If you're planning a trip soon, be sure to bookmark these tips on how to pack hand luggage for later! If you love new adventures as much as I do, sign up for my weekly newsletter for even more travel tips!
Until next time!
Pin for Later!
Did you find this guide to the TSA liquids carry on policy useful?