How To Pack Hand Luggage: 15 Money-Saving Packing Tips (2023)
Disclosure: This article may contain affiliate links, meaning I earn a small commission if you make a purchase. Affiliate links cost you nothing to use and help to keep my content free. It's a win-win for us both! Read this disclaimer for more information.
DO YOU WANT TO LEARN HOW TO PACK HAND LUGGAGE?
Have you ever unpacked after a trip and wondered why you've taken something with you or found things you never wore in your bag? Me too!
Packing for every possible situation feels like a good idea, but it's the quickest way to overfill your bag, lug stuff around that you don't need and pay a small fortune in checked baggage fees. Travelling hand luggage only is the way to go.
I've been travelling internationally for over 40 years and learned how to pack hand luggage through trial and error. Today, I travel hand luggage only by choice. And yes, that's included short breaks, week-long business trips, city breaks and extended trips, including months of backpacking around Egypt.
Travelling light saved me time and lots of money! Without a hold bag, I could speed through departures and arrivals, and avoided hefty hold baggage fees. You could too!
Your bags also won't get battered, lost or stolen between check-in and the baggage reclaim, and it's easier to get around when you don't have a heavy hold bag to worry about!
Over the years, I've picked up carry-on-only travel hacks and tricks that make travelling carry-on only easy. Here are my very best tips for packing hand luggage only, whether you want to know how to pack hand luggage for a week, a few days or a longer trip:
How to Pack Hand Luggage: 15 Best Tips
1. Pick Clothes That Work Together
With three coordinating tops, three pairs of trousers, shorts or skirts, and three layering pieces (jumpers or cardigans), you'll have 18 possible outfit combinations. Throw in a couple of pretty scarves that take up next to no room and can "lift" an outfit.
The best way to avoid running out of outfits when travelling with a carry-on bag is to mix and match, picking neutral colours and styles that work together.
Top tip: Check if there's a launderette near your accommodation. Alternatively, use the hotel laundry service or wash a few items by hand while you're away so that you can recycle your outfits.
2. Buy Stuff When You Get There
You may be able to buy things once you've arrived, such as sunglasses, sunhats, sandals, and toiletries. It's a sustainable way to travel and helps support local businesses.
Pro Tip: Remember that your baggage limit will be the same for your trip home too!
3. Pack a Laundry Sack
You may be unable to do any laundry before re-packing your bag, so pop a laundry sack into your bag to separate clean and soiled items.
Top tip: Use the plastic hotel laundry bag, then store it in your bag and use it repeatedly! I have one that's at least five years old! Alternatively, an old pillow slip works just as well.
4. Pack Clothing That Takes Up As Little Space as Possible
Lightweight, multipurpose clothes work best for travelling carry-on only, as these items usually pack into a tiny space.
Pick cleverly engineered technical fabrics that look smart enough for a city break, work well for more rural or off-the-beaten-track locations, and dry in a snap after hand-washing.
Pro Tip: Pack layers rather than bulk for cold destinations.
5. Fold and Roll
Now you know what to pack, it's time to make it fit. Here's how to pack hand luggage efficiently:
Fill the spaces on hard-shell cases behind the handle with small items, like your undies, swimwear and lightweight clothes.
Roll your clothes to save space in your bag and to minimise creasing. Stack your rolled items next to each other.
Stuffing shoes with small items like socks will help them hold their shape and make the most of the space in your bag.
6. Fill EVERY Nook and Cranny
Put fragile items like sunglasses or camera lenses inside a sock, and stow them inside your shoes. You'll get rid of dead space and protect your precious items at the same time.
7. Use Compression Packing Cubes
Packing cubes are the ultimate minimalist packing tool! Once you've folded and rolled your clothes, pack them into compression packing cubes, then see how much space you save when you do up the compression zip.
If you need to open your cabin bag at airport security, your clothes won't all tumble out and ruin your careful packing! I personally use these compression packing cubes, which are made from recycled plastic bottles!
8. Maximise Your Second Bag
Check whether your airline and your ticket type permit you to take a personal item (such as a handbag, laptop bag or camera bag) in addition to your primary carry-on bag.
If you can, you'll have to stow this in the footwell, beneath the seat in front of you. That means your bag needs to be flexible and sturdy.
Pack the things you'll need on the flight in this bag so they are easy to access during the flight.
9. Wear Your Bulkiest Clothes
Wearing your coat and bulkiest shoes to travel is the best way to save precious packing space – you can shed layers after boarding the aircraft.
Use your pockets for reusable water bottles, brolly, or gloves. It's a great way to bring a few extra things, but don't go crazy!
Top Tip: A stuffable down jacket that packs down tiny into a small stuff sack is one of the easiest hacks for how to pack hand luggage.
10. Minimise Your Liquids and Switch to Solids
Restrictions on hand luggage liquids can be a hassle. The TSA Liquids Rule limits you to one one-litre clear bag for all liquids in containers no bigger than 100ml each.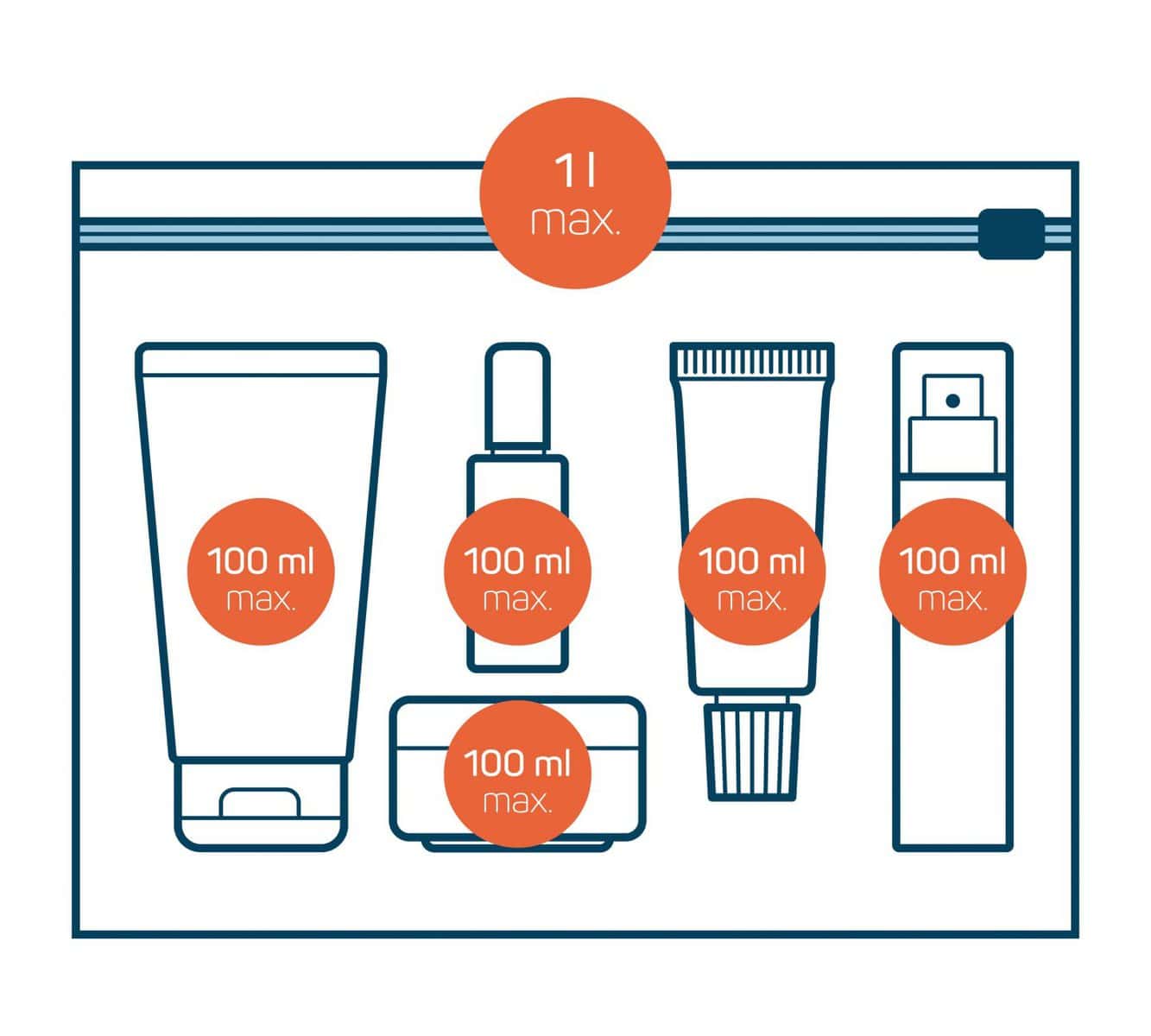 Decant essential toiletries into 100ml bottles. (Remember to wash these out and reuse them for your next trip).
Switch to solids wherever possible. For example, switch your spray or roll-on deodorant for a stick deodorant. Or, try solid shampoo and conditioner instead of liquids. Consider taking a soap bar instead of shower gel and buying toothpaste tablets rather than toothpaste. Solid products won't count as liquids; they last well and are better for the environment.
Pack minimal toiletries that you can use for more than one purpose. For example, a cream blusher can double up as a lip colour and eye cream, and you can use a dash of shampoo to handwash a few clothes.
The TSA classifies solid deodorant, lipstick and bars of soap as solids. They don't need to go in your hand luggage liquids bag. Still, any final decision will always rest with the local security officer on whether an item is allowed.
Security agents who insist these items fit into the hand luggage liquids bag have challenged me at several UK airports. Be warned if you're flying into or within the UK!
Read More>>> Can I pack scissors in my carry-on bag?
11. Keep Your Essentials on Hand
Keep your passport, phone, money, and boarding pass in a bum bag (fanny pack), neck pouch or secure zipped pocket. You'll need easy access to them as you pass through the airport.
Organise your liquid bag BEFORE leaving for the airport, and stow it somewhere easily accessible. You don't want to be the disorganised passenger who holds up the whole security queue or to have your posh new lipgloss confiscated because you forgot to put it in your liquids bag.
12. Go Digital
Wherever possible, switch to digital devices to save space in your cabin bag, but don't forget to pack your charger and power bank. Here are a few ways to make the most of digital devices:
Download boarding passes onto your phone to avoid the need to print and stow your travel documents
Load your favourite books onto an eReader
Tidy up the cables for your devices with inexpensive hair bands, and tuck them all into one bag so that you can locate them quickly
13. Charge Your Devices
Make sure to charge your electronic devices fully before you travel. If any devices in your hand luggage won't power up when a security agent asks, you won't be allowed to take them on the plane with you.
A multi-port charger is a great way to charge up more than one device and free up space in your bag.
Here's the multi-port charger that I use – it's lightning-fast with a heap of security features to protect your devices. It's compact and lightweight too.
14. Pick Your Camera Carefully
Consider leaving your big (heavy) DSLR camera at home and travelling with a lightweight mirrorless camera. Alternatively, take all your photos on your smartphone.
15. Ditch the Chunky Jewellery
Jewellery can be a magnet for the wrong kind of attention when travelling, especially if you're a solo female traveller. Consider taking only the bare minimum of jewellery with you, and keep it subtle to save on packing space and look after your security.
Top tip: If you're a solo female traveller, a fake wedding ring can help you to avoid unwanted attention. I used one every time in Egypt – it worked like a charm!
How To Pick The Right Hand Luggage
As there is no industry standard hand luggage size, and airlines often update their rules, before you buy a cabin bag, you should:
1. Check your airline's hand luggage specifications
2. Check the cabin baggage allowance for each flight if you're taking more than one flight or flying with more than one carrier.
As a general rule of thumb, international and national airlines tend to have a size restriction of 55 x 35 x 20 cm or 22 x 14 x 9 inches, and you can stow your bag in the overhead locker.
Others, typically budget airlines, have much smaller baggage size (and weight) allowances, especially on their "no-frills" fares, and you may have to fit your bag under the seat in front of you. It pays to check, as paying hold luggage charges at the check-in desk is very expensive!
What's the best hand luggage to buy?
You need a carry-on bag that works on the way to the airport, on the flight, and at your destination. Wheeled bags can be a great option, but if you hop on and off trains and buses, navigate uneven terrain, or walk a long way, you might be more comfortable with a backpack.
Top Tip: Bags with plenty of pockets and soft sides are handy, as they help keep your stuff well organised. Packing and accessing your belongings is also easier with a front-loading (suitcase-style) bag.
I use this Flight Knight case for city breaks, as it's one of the lightest rolling cases you can buy at just 1.5kg, and it's approved for multiple airlines.
BEST CABIN-SIZED RUCKSACK
For longer trips where I only want to travel with hand luggage but don't want a wheeled cabin bag, this Osprey backpack is my old favourite!!
Typically, 20-26 litre bags are a good size for a long weekend, while 30-45 litre luggage is perfect for longer trips. If you need a larger bag, this backpackers checklist is helpful.
Pro Tip: After you've packed your bag, use a digital luggage scale to check (and double-check) the weight of your bag!
FAQs: How To Pack Hand Luggage
Just in case you need them, here are a few questions people often ask:
How do you pack only hand luggage?
What can I put in my hand carry luggage?
What cannot be packed in carry-on luggage?
Can I take 2 bags as hand luggage?
Some airlines allow you to take a cabin bag (typically a small wheeled bag) that you can stow in the overhead lockers and a personal item (that you must stow under the seat in front of you).
Check your baggage allowance before you book!
Wrap Up: How to Pack Hand Luggage
Now you know how to pack carry-on bags for TSA checks like a pro; you can travel for weeks with everything you need – without lugging a massive suitcase around. Adios, baggage claim!
If you're planning a trip soon, be sure to bookmark these tips on how to pack hand luggage for later!
Pin How to Pack Hand Luggage to Pinterest for Later!